I can't believe that there is no announcement here for this great piece of MEGA65 software yet!
Bit Shifter has written a Z interpreter for the MEGA65 and released it last September as public domian on github: BSZ

I like the oldschool textadventures especially the ones from Infocom and with this software you can play many textadventures with a so-called Z story file (Z3, Z4 or Z5).
So let me show you how you can build your very personal textadventure disc for your MEGA65.

First you have to download the BSZ interpreter. The easiest way is to download the "bsz-mega65" and save it in a folder e.g. named mygame.
Then you have to get an Z story file from a textadventure. If you just can not find your prefered gamebox in your shelf within the 30 original Infocom gameboxes, maybe you take a look at this site:
Illuminion: Infocom - classic text adventures
Here you can find some Z story files from Infocom classic game. Or just ask your friends and neighbours for some story files.
You can also find the sourcecodes of many Infocom textadventures at this github repositories:
In some of them there is even a compiled story file which you can use with the BSZ interpreter.
For this guide I choose a personal favorite textadventure "The Hitchhiker's Guide to the Galaxy" as an example.
I have downloaded the Z story file named "s4.z3" and saved it in the folder mygame in which the BSZ is stored.
So that are all two files we need for our D81 disc.
Let us now use the great software "DirMaster" for creating a D81 disc image. It runs on Windows and Linux (with wine).
After DirMaster starts press 8 or select "Disk -> New -> D81" in the menu. An "empty" D81 disc appears.
Open your mygame folder and drag & drop the two files into the directory window: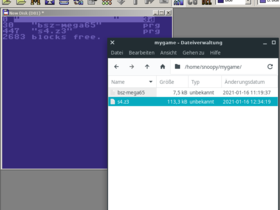 Then select the file "s4.z3" in the D81 window and press S for modify the extension to SEQ and then press R for renaming the file.
The story file has to begin with a lowercase "z", so I choose "zhhg" (for HitchHikersGuide), and press RETURN:
It is not necessary, but I want to name the disc image. So I right-click into the empty blue titlebar and select "Rename Disk" and name it "hitchhiker":
With pressing CTRL+S a dialog opens for saving the D81 disc image into the "mygame" folder:
Now we have a D81 disc image with we can use with the xmega65 emulator or on the SD card for the MEGA65/DevKit/Nexys board.

Let me use xmega65 from LGB-Z for this guide. After the start of the emulator attach the D81 image with right-click into the emulator window and select "FD D81 -> Attach user D81" and select the saved D81 for attaching.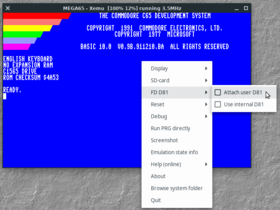 A DIR command should show us the directory of the D81 disc image.
Start the game with RUN "B*" and RETURN: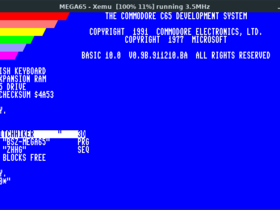 Press RETURN again ...
... and here it is: Your classic textadventure on your MEGA65 in 80 column and color display!
It looks and "feels" great.

If you need a manual or some gimmick stuff for your Infocom textadventure you can find them e.g. here:
A little side note: With this "look and feel" patch of the C65 ROM it looks like playing it on an good-old green monochrome CBM PET:

Many thanks again to Bit Shifter for this great Z interpreter!