The PET 8296 (named CBM 8296 in Germany) was besides the PET 4032 the first computer I used in school for programming. I still like the PET typical green color monitor and the "professional" 80 char display (at the 8296).
Here is the start screen of the PET 8296 emulated with VICE:
I combined this "remaining love" with my playing around with the C65 and build a "PET ROM" for the MEGA65.
With this patch I tried to let you feel like you are sitting in front of a PET 8296 while you are using your MEGA65 (Nexsy/Xemu).
I tested the patched ROM with the Nexsy board and the Xemu emulator (xc65 and xmega65).
The patch "pet_a" include all modification done with patch "AH".

Additionalty I changed the char rom areas $9000 to $9FFF and $D000 to $DFFF with the appropriate char values from the German PET 8296 ROM (so you have also the umlauts in it). I can not simple copy the memory areas, because some chars are on another place in the C65 ROM.
Because a PET "have to" use a green color monitor, I changed the default palette colors to a green color palette.
At least I had modified the start up routine in the C65 ROM to let the start screen look like it's a PET: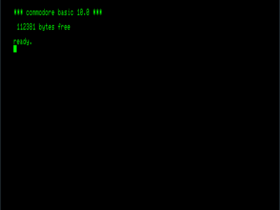 Just to get sure:
Be aware that this patch is NOT a PET emulator!
Only the "look and feel" of a PET is simulated.
You are still using a MEGA65 with all advantages and disadvantages.

All available C65 programs (3 in number

) can still be used and also the color palette can be changed in a program to see colors again.
To patch the original 911001.bin C65 ROM with the attached patch, use the patch instructions as described in this post.
bspatch 911001.bin patch_pet_a.bin 911001_pet_a.bin
Rename the "911001_pet_a.bin" to "MEGA65.ROM" to use it with the MEGA65 or Nexys board.
In the attached zip file there is also a D81 disc image with two little demo programs (one for showing all characters and the other for showing all 16 colors in bars).
Here is a look using MEGA PET with the C65 Notepad:

A monitor session with disassemble lines:
The MEGA PET after "GO64":

(The C64 mode uses the PET characters)
Maybe you want to try another "look and feel" for your MEGA65? If so, have fun with it!