Last night I wrote a little demo program on the Xemu emulator (C65 mode) to get a feeling of the new BASIC commands.
I was very impressed by the speed of the DMA command. It is described in the Mega65 manual at page 93:
I wrote a little demo program which fill the textscreen with the pressed key. If ESC is pressed, the program clears the screen and end.
Nothing special, just to see how fast the whole screen (80 x 25 = 2.000 characters) get filled.
Answer: Veryyyyyyy fast! And it's a BASIC(!) command.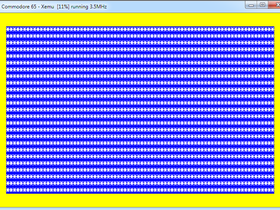 I attached the program as a zipped D81 discimage, if someone is interested to test it on real hardware (or Xemu).
Do someone know a method to export the C65 BASIC program as text, to read it with a normal editor?
I've used DirMaster v3.1.3/Style to create the disc image and I can drag and drop the PRG file to the new D81 discimage. But I see no option to export the C65(!) BASIC program as text.