Hi all,
I spend the afternoon to port my game Uberswap to the Mega65. It can be found on the filehost: Download MegaSwap as well as in Uberswap's Github repo:https://github.com/EgonOlsen71/uberswap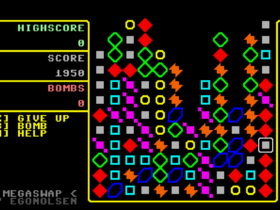 It's a match 3 variant. The goal is to remove all colored pieces from the playing field by swapping them.
While the C64 version only runs fine when compiled and also uses some small machine language routines, the Mega65 version is plain BASIC.
I did the port directly on the Mega65.