16) PHI1# driver
PHI1# driver is located a bit East from the A4 pad in the silicon.
It's an inverting super buffer, fed by PHI1, sending PHI1# through two metal traces
into "17) control signal latches\drivers".
IIRC the NMOS 6502 uses two smaller inverting super buffers instead,
each of them driving a PHI1# metal trace separately.
That part of the 6509 CPU core definitely is different from the NMOS 6502.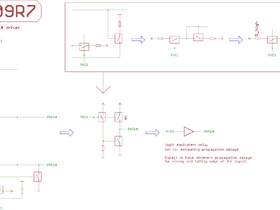 ;---
It's the first time I have seen a pulldown FET used inside a super buffer,
and I wonder why the designers did it that way.