ELEVEN is a combined editor and preprocessor package which enhances BASIC10 by adding the following features:
- variable declaration
- variable names of arbitrary length
- named labels instead of line numbers
- $ and % prefixes for hexadecimal and binary integers
- easy to read comments
- easy to use 'EE' full screen text editor with preprocessor integration
- automatic backup facility
ELEVEN consists of two main parts: The editor and the preprocessor itself. Both are working hand in hand in order to provide a simple and integrated development workflow.
Example programs and documentation are included
You can download a first alpha version at https://files.mega65.org/?id=8…1e-45a7-a4de-87bcb0b11696
For those of you who don't want to download the pig in the poke, here's the documentation (so far):
A few screenshots:
Eleven booting up (lone 'b' courtesy of buggy screenshot tool)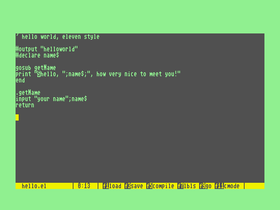 The editor, showing a simple example
A more involved example...
The preprocessor at work...