Based on this thread and for a simplier use of the Xemu emulator with the "Raspberry Pi 400", I have expand the Raspberry Pi OS with the installed Xemu emulators (xc65 and xmega65 by LGB-Z and hernandp ).
Similar to the Xemu live system I have included the current version of the MEGA65 User Guide with the menu option for getting updates. KickC and cc65 are included in there current version as development tools.
In the Chromium browser I've preset the "most important bookmarks".

Because of possible licensing problems I have uninstalled the originally existing Mathematica and Wolfram. If necessary, these can be reinstalled via the software management of Raspberry Pi OS.
The MEGA65 emulator xmega65 starts with the openROM. The original C65 ROM must be provided by yourself as a copyright reason. The prefered version "911001.bin" should be used and renamed to "MEGA65.ROM". With the menu item "Load ROM" it can then easily be imported from an USB stick or SD card. If desired, the script can also patch it automatically with the patch AI (US variant) and install it appropriately on the system. The whole thing only has to be done once, because in contrast to the live system, all changes are retained on the SD card.
You have to download, unzip and then write the .img file to a microSD card with at least 16 GB and put that into your Raspberry Pi 400.
You can download the Raspberry MEGA65 image (5,7 GB) here: Raspberry MEGA65 image
The always current link is also find at this site. The filehoster sometimes changes the link to the file and I will correct it as soon as I notice that.
The xc65 (C65 emulator) and xmega65 (emulator) by LGB-Z run great at the Raspberry Pi 400.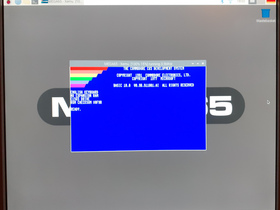 The xmega65 by hernandp is a little bit "too slow" for the Raspberry Pi 400, because it has implemented many VIC-4 features that costs a lot of speed. But it's still worth a try if you want to see some "VIC-4 stuff" with the emulator.
If you own a Raspberry Pi 400 and want to try ... have fun!