Hi all !

This is a small update/inside look into one of the minor tasks in such a project as the MEGA65 and here in preparation for the DevKits, have fun reading it
While the whole DevKit is coming together absolutely nicely but with some extended hours for us...
(We burn a lot of midnight oil* (*PGS)) Here is a small look into the tasks we're doing atm, besides, besides, besides the nominal work for the project
I've unpacked and prepared (partitioned and formatted) 100 microSD cards with SD-Adapter for the DevKits.
Beginning of next week, we will finalise the content for the SDcards and then we will copy the files onto the 100 cards and send them to our partner Trenz Electronic*
(*Partner, Mainboard designer & manufacturer and prime seller).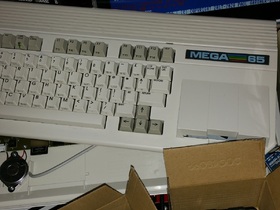 MEGA65 has to format and prepare all 100 SD cards for the DevKits.
Using a modified formating tool (Thanks Paul for FOLTERLOS), based on the Built-in SD formating tool inside the MEGA65.
100 SD cards
...for the DevKits !!!
It's a shame how much trash comes along with just 100 cards. I will reshape and reuse the plasticparts and we'll look into something different for the final MEGA65.