Because there were problems with the german umlauts of patch "AE" while using Mega65 mode (or Nexys board or xmega65 of Xemu), I patched a new version "AH" of the C65 ROM (911001.bin):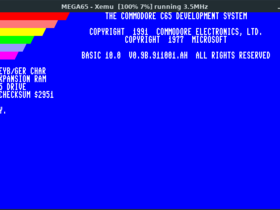 The patch includes all previous patches (until "AG" which fixed the "disc change bug").
To get the patched ROM see steps 1.) to 4.) in this post: Patch for C65 ROM
...
5.) Patch the file with this command:
bspatch 911001.bin 911001_ah.bin patch_ah.bin
6.) The created file '911001_ah.bin' is the patched rom and you can rename and use it for your needs. E.g. for Xemu 'c65-system.rom' or 'MEGA65.ROM' for Mega65 or the Nexys board.
As Paul mentioned in this post, the chars which uses Mega65 are copied from the C64 char set section of the C65 ROM. So I changed the chars also in the C64 section.
Now you can use the german umlauts also in Mega65 mode and even in the C64 mode (after GO 64):
For convenience I quote from from the manual for the C65 Notepad for describing the keys for the german umlauts:
Here is the text file with the changes made in patch "AH" against the original ROM (911001.bin):